Let the celebrations begin! The Year of the Water Tiger roars in on February 1, 2022, based on the Lunar calendar. Traditions for the Chinese New Year date back thousands of years and are designed to attract good fortune for the year ahead.
According to astrologers I've been reading, this year of the Tiger should be exciting and bring on big changes. Progress is possible; life is short and people are itching to try something new or take a risk. This idea is fueled by the water element in this year's Tiger – water brings out emotions more than any other of the five elements.
This will be quite a contrast from my post of a year ago.
Regarding the Chinese New Year, I quoted an astrologer from O magazine who predicted: "The Year of the Metal Ox will keep us in a holding pattern. There will be obstacles to overcome but metal symbolizes duration, resistance and loyalty. We will need spirit to succeed. Don't be impulsive; conserve energy."
That prediction turned out to be truer than any of us wanted. Maybe this year's forecast will be equally on the mark. Get excited for the Year of the Tiger in 2022! You can use all the energy you've been storing up for months.
To encourage good fortune in the new year, there are several traditions to consider.
*Clean your house before the arrival of the New Year. This allows new energy into your space and gets rid of bad energy accumulated during the past year. But, if you don't finish, make sure not to sweep or dust on New Year's Day because you might sweep your good fortune away.

*Wear red. Since ancient times, the Chinese people have considered the color red to be an auspicious color. Red is believed to protect you from bad luck and to attract love, peace and wealth.

*Open your windows (in Chicago, you may want to open windows just a bit). This allows bad luck to leave and good luck to flow in (and permit fresh air).

*Eat lucky fruits and stock them in your home for the Chinese New Year. They are:
*Oranges, especially mandarin oranges, because they attract wealth
*Pomegranates which symbolize fertility and happiness
*Mangos are believed to strengthen family bonds
*Lemons remove any negative vibes (when life hands you a lemon……)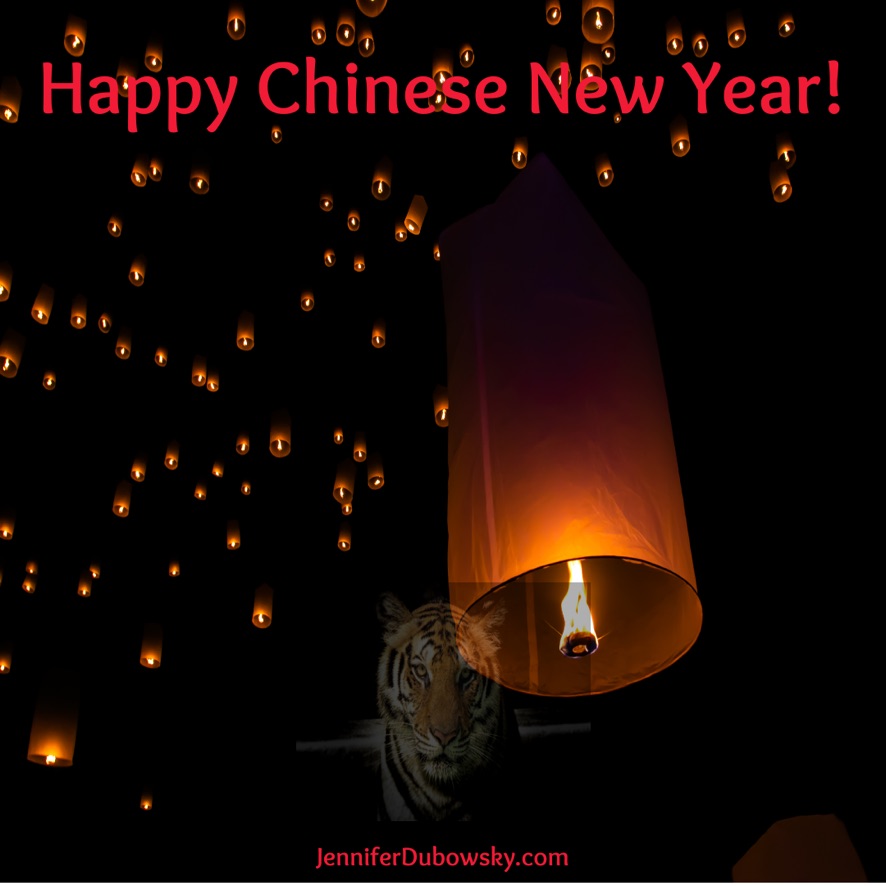 Are you a Tiger? Years of the Tiger are: 1926, 1938, 1950, 1962, 1974, 1986, 1998, 2010 and 2022. (Keep in mind the lunar calendar differs, so if you were born in January or February, double check the beginning of Lunar New Year in that particular year).
Traits of the Tiger. The tiger is universally known to be king of all beasts. People born in the year of the Tiger are predicted to have many tiger-like traits such as confidence, bravery, strong will power, and a quick temper accompanied by an aggressive or anxious nature. Tigers are fierce and unpredictable, but can also be caring and enthusiastic. Babies born in 2022 will be Water Tigers. Tiger babies who are born with the element of water will thrive on being social and are likely to be both smart and funny.
Celebrities born in the year of the Tiger include quite a selection: Marilyn Monroe, Queen Elizabeth, Lady Gaga, Tom Cruise and Leo DiCaprio